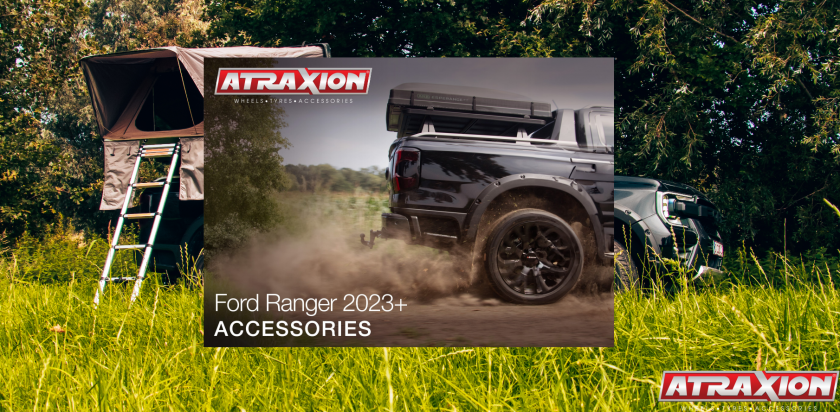 Welcome to our latest offering! We are excited to present our Ford Ranger catalogue again this year, offering a range of high-quality products from our key partners. Whether you're looking for accessories for your Ford Ranger or simply interested in the latest additions to our range, this catalogue has it all. Let's take a look at some highlights and handy links that may help you further.
Discover the Digital Brochure
Want to see the latest products from our partners in detail? Take a look at our digital brochure here. In this brochure, you can browse through all products and go directly to the product pages to find prices and delivery times 24/7.
Request a printed brochure
For those who would like a printed copy of our Ranger catalogue: click here to request your copy. Additional copies for your end customer are always possible.
Our Main Partners
1. Mountain Top: Atraxion is proud to partner with Mountain Top, a leading name in innovative rollcovers and accessories that add both style and functionality to your Ford Ranger and Ranger Raptor.
2. Aeroklas: At Atraxion, we have an exclusive partnership with Aeroklas, which supplies high-quality double-wall ABS hardtops. OE quality in various colours available from stock.
3. ARB: Adventurous Ford drivers trust ARB and we bring their premium off-road equipment exclusively to you. From bullbars to winches to camping gear, ARB has everything for your off-road needs and you can find them exclusively at Atraxion.
4. Ruuud: Where other brands fall short, at Atraxion we complement the product range with our own Ruuud products. With these, you can enhance the look of your car in a way that cannot be found anywhere else.
5. MAK and FUEL: At Atraxion, we offer a wide selection of rims from Italian MAK and for the more aggressive designs, from the USA: Fuel, Black Rhino, KMC, etc.
6. Old Man Emu: For those looking for higher riding comfort or carrying capacity, ARB has the OME range. Market leader for many years and with a reason.
Contact us!
Do you have questions about specific products or need help choosing the right accessories for your Ford vehicle? The Atraxion team is always ready to help you.